I did read a few books that could be considered as in the running for this year's Newbery. I haven't read nearly widely enough to know what chances they have, so I thought I would just throw them all together, higgledy-piggledy, in one blog post.
The Wild Robot, by Peter Brown
I feel like robots are having a moment, not so much in children's lit yet, but certainly in pop culture. Having just finished watching the first season of
Westworld
, this book made for a hopeful, if bittersweet antidote.
Travis Jonker described it as "Isaac Asimov writes
Hatchet
," which is probably the most perfect four word review I have ever read. After a shipwreck, Roz the robot washes up on the shore of an island wilderness. Designed to learn from her surroundings, she picks up the behaviors of the animals around her, who go from viewing her as a monster to defending her against a violent threat at the climax of the book.
Like most robot narratives,
The Wild Robot
is really about what it means to be human and how we should live in this world, and I found Roz the most compelling character in children's literature this year. It is, however, a book about talking animals. They speak animal languages, which Roz learns, but they are still somewhat anthropomorphized, and that will bother some readers. The episodic plot (and its inherent lazy pacing) might bother others.
Of all the middle grade novels published in 2016, though, this is the one I find myself shoving into people's hands, so it's at the top of my list.
Pax, by Sara Pennypacker
Another animal book, but this one gets more inside the brains of the animals while taking a more realistic view of their brains and behavior. A boy, forced to set his pet fox free, undertakes a journey to bring it home again. This all takes place against the backdrop of an unspecified military conflict which draws closer and closer to the area where the fox is living.
From the reviews I've seen, that nebulous setting is off-putting to some readers. Personally, I liked it. It reminded me of the film adaptation of
Howl's Moving Castle
, where there's a pointless, unexplained war going on behind everything else. It adds a menacing tone to the narrative, and I think the unexplained nature of the conflict is a feature, not a bug - war is always inexplicable, especially to children and animals. The sentence-level writing is gorgeous, and the themes are beautifully realized, but it's possible that some of the characters are underdeveloped.
Like many readers, I did like the fox POV chapters better than the human chapters.
The Inquisitor's Tale: Or, The Three Magical Children and Their Holy Dog, by Adam Gidwitz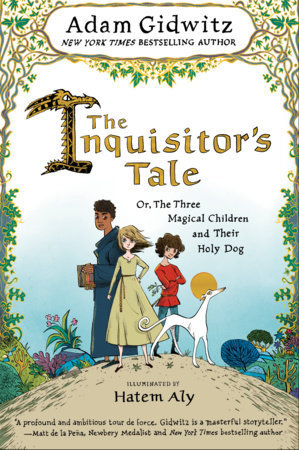 In his previous trilogy, Gidwitz was riffing (to marvelous effect) on the Brothers Grimm. Here he takes on
The Canterbury Tales
(in style more than in subject matter). Multiple narrators gathered at a tavern tell the story of three remarkable children who attract the interest and eventual ire of the most powerful men and women in medieval France.
Of the books I'm covering here, I think this one has the best shot of winning a medal. Its themes are both universal and timely, dealing, as it does, with religious, racial, and class prejudices. It also has a lot, like a
lot,
of fart and butt jokes. In that sense, Gidwitz really nails the Chaucerian high/low tone.
The pacing is on the slow side, and I think that will put some children off, but it's really the kind of book that would make for an excellent classroom read, with lots of side projects to go along with the medieval subject matter. The audiobook, read by three narrators who each take on a multitude of voices, is excellent as well.
The Family Fletcher Takes Rock Island, by Dana Alison Levy
This one was pure pleasure. I approach the Fletchers more with love than with critical distance, but this second volume of their adventures takes on more serious themes than the first one did. I think the subplot about racism on a tiny New England island works well, but I'd like to hear other thoughts on the matter. The main plot - a greedy real estate investor threatens a beloved landmark - is a tale as old as time, but drawing on the classics is fitting in a nostalgic/madcap family novel like this. Rainbow families deserve sepia-toned comfort fare too.
...and many more.
I will be at the Youth Media Awards next week, and before then I hope to read a couple more books. At the top of my list:
Ghost,
by Jason Reynolds, and
The Best Man
, by Richard Peck. As always, I can't wait to hear what the committee chooses!